PEELS
Lactic Peel – $55
Dehydrated, mature and sensitive skin
Glycolic Peel – $65
Acne, breakouts and fine lines
Reveal Peel – $75
Anti-ageing, pigmentation and scarring
45 minute Signature Facial – $75
"Clear complexion" facial for acne prone skin
"Calm and soothe" facial for sensitive skin
"Ultimate hydration" facial for dry, dull skin
"Age reversal" facial for lack-lustre, mature skin
75 minute Luxe Rejuvenation Facial – $115
This bespoke facial will take your skin on a journey of total renewal. Unwind and let go of your senses whilst we pamper you from head to toe.
Combined with luxury massage technique, this indulgent experience is tailored to your skin's exact needs and will restore forgotten elasticity and radiance.
Your skin will be left feeling soft, velvety and hydrated with this ultimate skin experience.
Includes a relaxing hand and arm massage and a deluxe neck, scalp and shoulder massage.
MICRODERMABRASION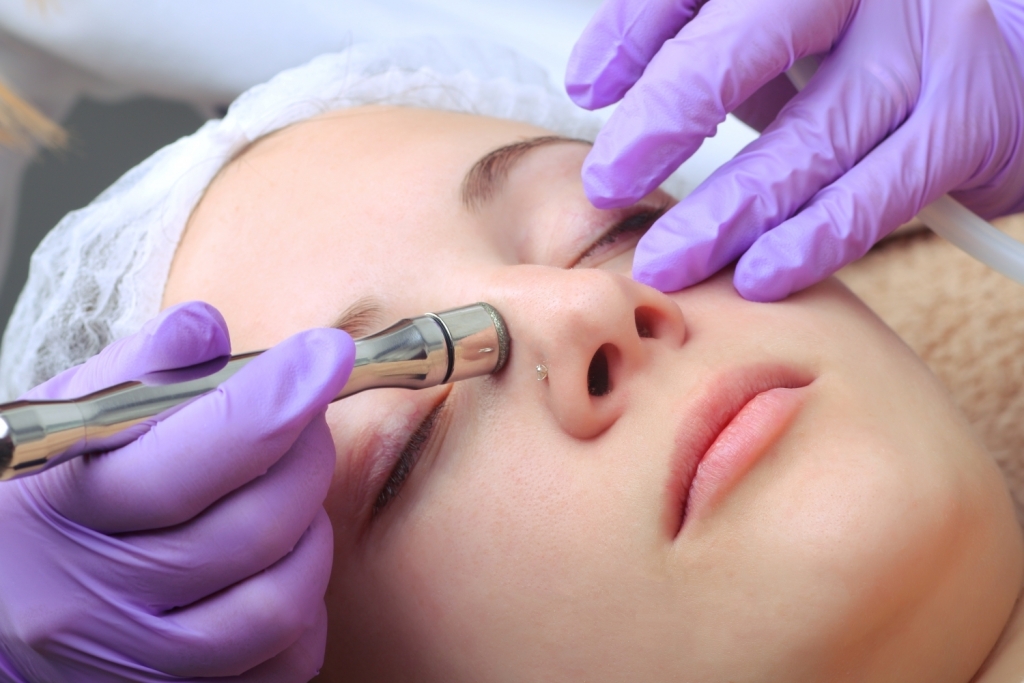 Microdermabrasion is a non-invasive, safe and gentle procedure that deeply exfoliates and polishes the skin to stimulate new cell growth. Using a gentle vacuuming system and diamond tips, it can be an effective treatment for fine lines and wrinkles, acne and scarring, blackheads and congestion, open pores, pigmentation and rejuvenation of dull and tired skin. 
This treatment includes an intense power cleanse to begin, using ultrasonic soundwave technology to clear the skin of excess oils, dirt and debris from within the pores, leaving your skin fresh and ready for exfoliation. 
Following your microdermabrasion, we use sonophoresis to infuse potent, active vitamin serums deep into your skin. Sonophoresis is a safe, relaxing and non-invasive treatment that uses warmth and motion energy to significantly increase the depth and rate at which treatment products are absorbed into the skin.
The result? Your skin will be left plump and hydrated with a healthy dewy glow. Absolute heaven!
60 minutes – $110
Prepay for 5 and receive one free!
Gift certificates are available for purchase for any treatment, package or dollar value.
MICRODERMABRASION AFTERCARE
1.     Sunscreen, sunscreen, sunscreen!
Probably the most important tip I can give you post microdermabrasion is to make sure you're applying SPF daily – and enough of it!
3-5 days post microdermabrasion your skin is more prone to sun damage and sun-ageing than a normal day. In this time make sure you're not planning to spend any time out in the sun and please ensure you apply sunscreen every day and reapply every 3 hours to ensure you're getting the most out of your treatments and receive the results you're after.
2.     No Exfoliating for 5-7 days
Microdermabrasion has removed all the dead skin cells from your skin, so if you use an at home exfoliant on your already fresh skin, chances are your going to strip your skin of its natural healthy barrier and cause sensitive, raw skin that will probably be painful and sore. This includes ensuring you use no AHA or BHA chemical exfoliant products for this time.
3.     Minimise other active products for 2-3 days
Especially vitamin A and C products. Both can be quite irritating on freshly exfoliated skin for 2-3 days. During this time ensure you use gentle and hydrating products on your fresh skin.
4.     Use more moisturiser than usual
You'll leave your appointment with beautifully soft and hydrated skin – so you'll want to keep it that way by maintaining moisture levels at home during the healing process. It's normal sometimes in the 5-7 days post Microdermabrasion to flake or peel a tiny bit so to avoid that as much as possible, try to use more moisturiser at night, in the morning and throughout the day as you feel is needed.
5.     No sweaty exercise for 12 hours
Your skin will be more sensitive than usual in this time and whilst it is healing you want to avoid any excess sweating as to avoid unnecessary irritation and breakouts.
6.     NO picking your skin!
As mentioned in #4, it is normal for your skin to flake or peel a little bit in the days post microdermabrasion. It is extremely important not to pick or peel your skin off. This trauma can cause hyperpigmentation which is extremely hard to reverse. Same goes for any pesky breakouts that may surface after a microdermabrasion, these spots may have been lurking under the skins surface waiting to break out, and if they do, DO NOT POP OR PICK THEM. We want to avoid scarring, not make it.
MICRODERMABRASION FAQ
What brand of microdermabrasion machine do you use?
How does microdermabrasion work?
Microdermabrasion is one of the best anti-ageing skin care treatments available. This safe and painless treatment accelerates the exfoliation of dead skin cells which in turn stimulates new cell growth and the renewal of collagen. Using a gentle vacuuming system and diamond tips, microdermabrasion removes dull, dead skin cells, unclogs pores and polishes the skin.
It is a non-invasive treatment that can be used to treat a number of skin concerns, on any part of the body, with no downtime. Microdermabrasion perfectly prepares the skin's surface for the enhanced infusion of active ingredients applied during a sonophoresis treatment. – www.asapskinproducts.com
What skin concerns does microdermabrasion treat?
Uneven skin tone or complexion
Skin texture & roughness
Dull and dry skin
Fine lines & wrinkles
Dark spots or pigmentation
Post inflammatory hyperpigmentation (Red pimple/acne scars)
Clogged pores
Acne
The appearance of scars
Mild skin laxity
What does microdermabrasion feel like?
Imagine a vacuum cleaner for your face! You'll feel a light vacuum suction feeling over your face, with a slight abrasive tip that gently yet deeply exfoliates your skin. Some people even say it can feel like a cats tongue licking them, but with suction.
Do you use Diamond tips or Crystal microdermabrasion?
Our ASAP microplus+ machine uses diamond head microdermabrasion.
What is the difference between Diamond and Crystal microdermabrasion?
Diamond microdermabrasion is newer than the older crystal method. The tip of the microdermabrasion device is coated in a hard crushed-diamond-like substance (it is not made of actual diamonds) which is passed over the skin, and combined with the slight vacuum suction of the machine, it's effective at removing the dead skin cells as well as the dirt and debris in the skin.
Is microdermabrasion painful?
Microdermabrasion is a safe and painless treatment when it's performed by a trained technician.
Does microdermabrasion remove blackheads?
Microdermabrasion can gently yet effectively remove blackheads, acne and congestion. If you do require extractions for more stubborn blackheads, extra time will need to be allowed.
Will a microdermabrasion help with skin wrinkles?
With ongoing treatments, Microdermabrasion can help with fine lines and wrinkles. It is also helps with pigmentation, open pores and for the rejuvenation of dull tired skin.
How often can I get a microdermabrasion?
The treatment can be done as often as fortnightly or up to 8 weeks apart, depending on your desired outcome.
How long do the results last?
Results typically last about a month, depending on your age and homecare products your using in your skincare routine at home.
Do I need more than one treatment?
One microdermabrasion facial will leave you with noticeably smoother, tighter and more hydrated skin. It will also relieve you of dry itchy skin and help to clear up blackheads and breakouts you may have. That being said, One microdermabrasion will not leave you with permanent or lasting results.
We normally recommend at least a course of 6 treatments to leave you with the proper end result to see long term results, especially when your concerns are pigmentation, fine lines and scarring as they cannot be cured in one treatment.
SONOPHORESIS (VITAMIN INFUSION) FAQ
How does sonophoresis work?
Sonophoresis is a relaxing, non-invasive treatment that uses ultrasonic (soundwave) technology. Following your microdermabrasion facial, a cocktail of vitamins in a hydrating mask base is applied to your freshly exfoliated and prepped skin and infused with sonophoresis.
It has been shown to increase the penetration and absorption of these active ingredients into the skin by 800% compared to manually massaging the products into your skin.
Does sonophoresis suit all skin types?
It is suitable for all skin types and delivers excellent results. For each individual, a personalised mask is designed for your certain skin concerns.
Can you have a microdermabrasion and sonophoresis in one treatment?
The results of sonophoresis are greatly improved after a microdermabrasion treatment as the dead skin barrier has been removed with the exfoliation of the facial. In fact, we perform a complimentary sonophoresis treatment to finish off all our standard microdermabrasion facials.
Is sonophoresis painful?
Definitely not. Sonophoresis is an ultra-relaxing, non-invasive treatment. This warm, massaging treatment increases skin circulation, leaving the skin feeling smooth, firm and hydrated. It is suitable for all skin types and delivers excellent results.